Details

October 12-14, 2022
MICA Fall Business Meeting
Omaha Marriott Downtown at the Capitol District - Omaha, NE


HOTEL ROOM RESERVATIONS: Standard Room Rate is $149.00 + applicable taxes (currently 19.84%) and includes complimentary in-room internet>
To make your room reservation, dial 844-696-3779 and reference the "Midwest Insulation Contractors Association" or book securely online by Clicking Here.
ROOM BLOCK CUT-OFF DATE: Friday, September 23, 2022.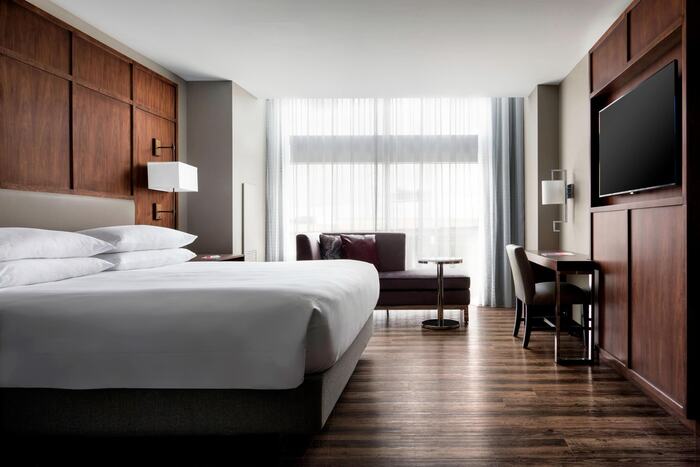 Full Registration for the first person from each MICA Member Firm is $295.00 and each additional person from the same firm is only $280.00. A Full Registration will get you into all of the educational sessions and the Keynote Presentation as well as breakfast both mornings, the Welcome Luncheon and the Vendor Tabletop Reception.

MICA is also offering a FREE half-day educational seminar which will take place Thursday, October 13th from 8:30 am to 11:30 am. This special registration is for this educational session only and does not include any other activities in conjunction with the Fall Business Meetings.
TENTATIVE SCHEDULE OF EVENTS
Wednesday, October 12, 2022
11:00 AM – 12:00 PM
Registration Open (2nd Floor Foyer)
12:00 PM – 1:30 PM
Executive Committee Luncheon Meeting (Closed) (Dodge Room)
1:45 PM – 2:45 PM
Membership Committee Meeting (Douglas Room)
3:00 PM – 4:00 PM
Past Presidents' Committee Meeting (Closed) (Dodge Room)
4:15 PM – 5:15 PM
Board of Directors Meeting (Closed) (Dodge Room)
Dinner on Your Own
Thursday, October 13, 2022
7:00 AM – 8:15 AM
Safety & Environmental Committee Meeting (Douglas Room)
7:00 AM – 9:00 AM
Breakfast (Capitol Ballroom 2)
8:00 AM - 12:30 PM
Registration Open (2nd Floor Foyer)
8:30 AM – 11:30 AM
Educational Pre-Meeting Seminars (Free to attend) (Dodge Room)
Speaker: David Morton with Maxim Consulting Group

Session 1: Change Order Management
Effective change order management can dramatically reduce a subcontractor's risk and increase profitability. This interactive course explores the change order process from a subcontractor's view point and provides participants with hands on training in recognizing, scoping, pricing, and negotiating change orders.

Session 2: The Life Cycle of Estimating – Bid With More Data Less Gut
With the technology available to the industry, it is entirely possible to price work utilizing data in lieu of estimating software with the "hope" that it contains the right information to help land the job AND not lose profit. During this session, we will discuss the life cycle of estimating and the critical path of information that must be shared through the get work, do work, and keep score functions to allow for this critical information to be gathered, extracted, and utilized.


12:00 PM - 12:30 PM
Cocktail Reception (2nd Floor Foyer)
12:30 PM - 1:15 PM
Welcome Luncheon (Capitol Ballroom 2)
1:30 PM - 2:00 PM
General Business Meeting (Capitol Ballroom 3&4)
Call to Order by President, Doug Barton
President's Welcome and Report
2:00 PM – 3:00 PM
Keynote Presentation - Tom Osborne (Capitol Ballroom 3&4)


Thomas Osborne is a former American football player, coach, college athletics administrator, and politician from Nebraska. He served as head football coach of the Nebraska Cornhuskers from 1973 to 1997. After being inducted into the College Football Hall of Fame in 1999, Osborne was elected to Congress in 2000 from Nebraska's third district as a Republican. He served three terms (2001–2007), returned to the University of Nebraska as athletic director in 2007, and retired in 2013.

Osborne played college football as a quarterback and wide receiver at Hastings College, and soon after finishing his brief NFL career he was hired by Nebraska head coach Bob Devaney as an assistant. Osborne was named Devaney's successor in 1973, and over the next 25 years established himself as one of the best coaches in college football history with his trademark I-form offense and revolutionary strength, conditioning, and nutrition programs.[1] He retired with a career record of 255–49–3 (.836), 13 conference titles, and three national championships. He coached 53 All-Americans, including 1983 Heisman Trophy winner Mike Rozier. Osborne's 1995 national championship team is considered by many to be the best in college football history.

3:00 PM – 3:15 PM
Refreshment Break
3:15 PM - 4:15 PM
Open Forum Discussions:
Union Contractors Forum (Douglas Room)
Ted Nickel, Moderator
Open Shop Contractors Forum (Dodge Room)
Adam DeGraaf, Moderator
Associate Member Forum (Capitol Ballroom 3&4)
Darrell Peil, Moderator
4:15 P.M. - 5:00 P.M.
Young Professionals Committee Meeting (Dodge Room)
5:00 P.M. - 6:30 P.M.
Reception & Associate Members' Tabletop Displays (Capitol Ballroom 1&2)
(Manufacturers)
Dinner on Your Own
Friday, October 14, 2022
8:00 AM – 9:00 AM
Continental Breakfast for All Attendees (Capitol Ballroom 3&4)
8:00 A.M. - 8:50 A.M.
Board of Directors Meeting (Closed) (Dodge Room)
9:00 AM
General Business Meeting (Capitol Ballroom 3&4)
Call to Order by President, Doug Barton
MICA Business Meeting (Capitol Ballroom 3&4)
9:15 AM – 10:15 AM

Contractor Pre-Qualification

Speaker: William McCaffrey, Vice President, Environmental Health and Safety for the Irex Contracting Group

Third party contractor prequalification is a trend that is not going away. More and more customers are using services such as ISNetworld to prequalify their contractors. A failing grade can cost your company the opportunity to even bid work. In this session, learn how to navigate the ISNetworld system including common metrics, grading systems, tips and tricks to pull your grade up, and the latest tools and reporting hiring clients may use. This session will also cover the importance of prequalifying any subcontractors that MICA membership may use.

10:15 AM – 11:00 AM
Refreshment Break
11:00 AM – 12:00 PM
Using the MICA Manual to Build a Bid Submittal (Capitol Ballroom 3&4)
12:30 PM
Adjournment
** Registrations as of 10/4/22

| | | |
| --- | --- | --- |
| FIRST | LAST | COMPANY |
| Jeff | Adair | KW SPECIALTY SERVICES, LLC |
| Jamie | Adamic | Bradco Supply, Inc. |
| Jake | Aelker | Owens Corning |
| D. | Andrews | Aerofoam® USA |
| Zach | Arends | Cornerstone Services Group |
| David | Baird | Midwest Materials Company |
| Jennifer | Ball | Integrated Marketing-Group |
| Nicholas | Barnett | Specialty Products and Insulation |
| Matthew | Bartelt | Bartelt Insulation Supply, Inc. |
| Michael | Bartelt | Bartelt Insulation Supply, Inc. |
| Brian | Barton | Midwest Insulation Services, Inc. |
| Doug | Barton | Midwest Insulation Services, Inc. |
| Rob | Barton | Midwest Insulation Services, Inc. |
| RT | Behm | JM Industrial |
| Lisa | Bennetts | Colorado Mechanical Insulation |
| Calvin | Brasel | Fit Tight Covers |
| Bob | Brauer | Brauer Supply Co. |
| Nate | Brink | Polyguard® Products, Inc. |
| Scott | Brothers | Knauf Insulation - IN |
| Jon Jon | Burnison | F & H Insulation Sales & Services, Inc. |
| Lance | Busch | Midwest Insulation Services, Inc. |
| Craig | Bynum | CORNERSTONE SERVICES GROUP |
| Brian | Clark | Distribution International |
| Jeff | Cook | Cook Brothers Insulation |
| Kevin | Dauenbaugh | ENERVATION, INC. |
| Luke | Davidson | MacArthur Company |
| Andrew | Davis | Cornerstone Services Group |
| Adam | DeGraaf | Industrial Construction & Engineering |
| Jeff | Dineen | Aeroflex USA |
| Dave | Dronen | 3M |
| Rob | English | Owens Corning - Foamglas |
| Steve | Enochs | Distribution International |
| Bill | Felstead | Jeff-Co Sales & Marketing, Inc. - IN |
| Colby | Ferguson | MacArthur Company |
| Gavin | Forehand | Owens Corning |
| Steve | Gardner | Specialty Products and Insulation |
| Jessica | Green | F & H Insulation Sales & Services, Inc. |
| Bob | Greske | MacArthur Company |
| Steve | Grushetsky | Midwest Fasteners, Inc. |
| Joe | Guest | 4-State Supply |
| Chris | Hayden | CORNERSTONE SERVICES GROUP |
| Matthew | Hedgers | Bay Insulation Supply Co. |
| Brian | Hensley | Cook Brothers Insulation |
| Andrew | Hiatt | Polyguard® Products, Inc. |
| Matt | Holker | Tenet |
| Mark | Horvat | Distribution International |
| Justin | Hubbard | Armacell, LLC |
| Tim | Hughey | Colorado Mechanical Insulation |
| Rich | Huseman | GAGNON INCORPORATED |
| Jacob | Hymer | Midwest Materials Company |
| Matt | Hymer | Midwest Materials Company |
| Dave | Jarecki | Cornerstone Services Group |
| Joe | Jarecki | Cornerstone Services Group |
| Justin | Johnson | Johnson Thermal Solutions |
| Josh | Klemmensen | Bay Insulation of Minnesota |
| Matt | Krueger | CORNERSTONE SERVICES GROUP |
| Brandon | Larson | Armacell, LLC |
| Kevin | Le | Certainteed |
| Randy | Leopold | Mid-Iowa Environmental |
| Zach | Leopold | Mid-Iowa Environmental |
| J.D. | Lile | Vimasco Corporation |
| Matt | Lillig | Cornerstone Services Group |
| Scott | Marker | Ceramic Fiber Enterprises |
| Tyler | McNeil | MacArthur Company |
| George | Menke | GAGNON INCORPORATED |
| Chad | Meyer | Johns Manville - IN |
| Bill | Miller | Miller Group, Inc |
| Bernie | Moore | AMD Distribution |
| Pat | Nelson | Jeff-Co Sales & Marketing, Inc. - IN |
| Ted | Nickel | Mavo Systems, Inc. |
| Cliff | Niesl | MacArthur Company |
| Rudy | Nigl | L & C INSULATION, INC. |
| Charlotte | NIsleit | KW Specialty Services LLC |
| Darrell | Peil | Knauf Insulation |
| Carl | Petersen | DELTA THERMAL SERVICES |
| Michael | Peterson | Johns Manville |
| Jeff | Poad | MacArthur Company |
| Kevin | Rambo | F & H Insulation Sales & Services, Inc. |
| Chad | Rebholz | Jeff-Co Sales & Marketing, Inc. - IN |
| Larry | Rice | Ideal Products of America Holdings, LLC. |
| Phil | Rosendahl | hth companies, inc. |
| Kevin | Sack | Sprinkmann Insulation, Inc. |
| Stephen | Sack | Sprinkmann Insulation, Inc. |
| Gary | Schelberger | Ten Point Marketing |
| Jeff | Schelberger | Ten Point Marketing |
| Kris | Scheller | Extol of Ohio, Inc. |
| Adam | Sease | GAGNON INCORPORATED |
| George | Shimada | GAGNON INCORPORATED |
| Craig | Shirley | RPR Products, Inc. |
| David | Shong | Thermal Pipe Shields |
| Phillip | Smith | PIC Plastics |
| Ashleigh | Snook | F & H Insulation Sales & Services, Inc. |
| Joel | Springer | Bradco Supply, Inc. |
| Casey | Stearns | Tri Star Insulation |
| Lee | Stuckenschmidt | Systems Undercover, Inc. |
| Mark | Sylvester | Aeroflex USA, Inc. |
| Louis | Tehan | Owens Corning Technical Insulation |
| Robert | Thompson | 4-State Supply |
| adam | Tollefson | API Construction |
| Jake | Tresslar | Johns Manville |
| Johnny | Turpin | Specialty Products and Insulation |
| Corey | Vance | RHH Foam Systems, Inc. |
| Gordon | Vierck | Luse Thermal Technologies |
| Tim | Walter | Alkegen |
| Louis | Walton | Proto Corporation |
| Mark | Wojtiuk | RHH Foam Systems, Inc. |
| Ian | Wyatt | Brauer Supply Co. |
| Jason | Zwieg | Tenet |
Add to Calendar
aCLuDhaqizCaPxAftmqF167204
10/12/2022
10/14/2022
true
America/New York
MICA Fall Business Meeting
    Omaha Marriott Downtown at the Capitol District222 North 10th StreetOmaha, NE 68102 HOTEL ROOM RESERVATIONS: Standard Room Rate is $149.00 + applicable taxes (currently 19.84%) and includes complimentary in-room internet>To make your room reservation, dial 844-696-3779 and reference the "Midwest Insulation Contractors Association" or book securely online by Clicking Here. ROOM BLOCK CUT-OFF DATE: Friday, September 23, 2022. Full Registration for the first person from each MICA Member Firm is $295.00 and each additional person from the same firm is only $280.00. A Full Registration will get you into all of the educational sessions and the Keynote Presentation as well as breakfast both mornings, the Welcome Luncheon and the Vendor Tabletop Reception.MICA is also offering a FREE half-day educational seminar which will take place Thursday, October 13th from 8:30 am to 11:30 am. This special registration is for this educational session only and does not include any other activities in conjunction with the Fall Business Meetings. CLICK HERE TO REGISTER TENTATIVE SCHEDULE OF EVENTS           Wednesday, October 12, 2022           11:00 AM – 12:00 PM                       Registration Open (2nd Floor Foyer) 12:00 PM – 1:30 PM                         Executive Committee Luncheon Meeting (Closed) (Dodge Room) 1:45 PM – 2:45 PM                           Membership Committee Meeting (Douglas Room) 3:00 PM – 4:00 PM                           Past Presidents' Committee Meeting (Closed) (Dodge Room) 4:15 PM – 5:15 PM                           Board of Directors Meeting (Closed) (Dodge Room) Dinner on Your Own           Thursday, October 13, 2022           7:00 AM – 8:15 AM                          Safety & Environmental Committee Meeting (Douglas Room) 7:00 AM – 9:00 AM     Breakfast (Capitol Ballroom 2) 8:00 AM - 12:30 PM                         Registration Open (2nd Floor Foyer) 8:30 AM – 11:30 AM                         Educational Pre-Meeting Seminars (Free to attend) (Dodge Room)                                                                  Speaker: David Morton with Maxim Consulting GroupSession 1: Change Order Management Effective change order management can dramatically reduce a subcontractor's risk and increase profitability. This interactive course explores the change order process from a subcontractor's view point and provides participants with hands on training in recognizing, scoping, pricing, and negotiating change orders.Session 2: The Life Cycle of Estimating – Bid With More Data Less Gut With the technology available to the industry, it is entirely possible to price work utilizing data in lieu of estimating software with the "hope" that it contains the right information to help land the job AND not lose profit. During this session, we will discuss the life cycle of estimating and the critical path of information that must be shared through the get work, do work, and keep score functions to allow for this critical information to be gathered, extracted, and utilized.   12:00 PM - 12:30 PM                       Cocktail Reception (2nd Floor Foyer) 12:30 PM - 1:15 PM                         Welcome Luncheon (Capitol Ballroom 2) 1:30 PM - 2:00 PM                           General Business Meeting (Capitol Ballroom 3&4)     Call to Order by President, Doug Barton     President's Welcome and Report       2:00 PM – 3:00 PM                           Keynote Presentation - Tom Osborne (Capitol Ballroom 3&4) Thomas Osborne is a former American football player, coach, college athletics administrator, and politician from Nebraska. He served as head football coach of the Nebraska Cornhuskers from 1973 to 1997. After being inducted into the College Football Hall of Fame in 1999, Osborne was elected to Congress in 2000 from Nebraska's third district as a Republican. He served three terms (2001–2007), returned to the University of Nebraska as athletic director in 2007, and retired in 2013. Osborne played college football as a quarterback and wide receiver at Hastings College, and soon after finishing his brief NFL career he was hired by Nebraska head coach Bob Devaney as an assistant. Osborne was named Devaney's successor in 1973, and over the next 25 years established himself as one of the best coaches in college football history with his trademark I-form offense and revolutionary strength, conditioning, and nutrition programs.[1] He retired with a career record of 255–49–3 (.836), 13 conference titles, and three national championships. He coached 53 All-Americans, including 1983 Heisman Trophy winner Mike Rozier. Osborne's 1995 national championship team is considered by many to be the best in college football history. 3:00 PM – 3:15 PM                           Refreshment Break 3:15 PM - 4:15 PM                            Open Forum Discussions:     Union Contractors Forum (Douglas Room) Ted Nickel, Moderator     Open Shop Contractors Forum (Dodge Room)Adam DeGraaf, Moderator     Associate Member Forum (Capitol Ballroom 3&4)Darrell Peil, Moderator       4:15 P.M. - 5:00 P.M.                      Young Professionals Committee Meeting (Dodge Room) 5:00 P.M. - 6:30 P.M.                      Reception & Associate Members' Tabletop Displays (Capitol Ballroom 1&2)(Manufacturers) Dinner on Your Own           Friday, October 14, 2022           8:00 AM – 9:00 AM                         Continental Breakfast for All Attendees (Capitol Ballroom 3&4) 8:00 A.M. - 8:50 A.M.                      Board of Directors Meeting (Closed) (Dodge Room) 9:00 AM                                           General Business Meeting (Capitol Ballroom 3&4)Call to Order by President, Doug Barton                                                          MICA Business Meeting (Capitol Ballroom 3&4) 9:15 AM – 10:15 AM                        Contractor Pre-QualificationSpeaker: William McCaffrey, Vice President, Environmental Health and Safety for the Irex Contracting Group Third party contractor prequalification is a trend that is not going away.  More and more customers are using services such as ISNetworld to prequalify their contractors.  A failing grade can cost your company the opportunity to even bid work.  In this session, learn how to navigate the ISNetworld system including common metrics, grading systems, tips and tricks to pull your grade up, and the latest tools and reporting hiring clients may use.  This session will also cover the importance of prequalifying any subcontractors that MICA membership may use. 10:15 AM – 11:00 AM                      Refreshment Break 11:00 AM – 12:00 PM                      Using the MICA Manual to Build a Bid Submittal (Capitol Ballroom 3&4) 12:30 PM                                         Adjournment   ** Registrations as of 10/4/22 FIRST LAST COMPANY Jeff Adair KW SPECIALTY SERVICES, LLC Jamie Adamic Bradco Supply, Inc. Jake Aelker Owens Corning D. Andrews Aerofoam® USA Zach Arends Cornerstone Services Group David Baird Midwest Materials Company Jennifer Ball Integrated Marketing-Group Nicholas Barnett Specialty Products and Insulation Matthew Bartelt Bartelt Insulation Supply, Inc. Michael Bartelt Bartelt Insulation Supply, Inc. Brian Barton Midwest Insulation Services, Inc. Doug Barton Midwest Insulation Services, Inc. Rob Barton Midwest Insulation Services, Inc. RT Behm JM Industrial Lisa Bennetts Colorado Mechanical Insulation Calvin Brasel Fit Tight Covers Bob Brauer Brauer Supply Co. Nate Brink Polyguard® Products, Inc. Scott Brothers Knauf Insulation - IN Jon Jon Burnison F & H Insulation Sales & Services, Inc. Lance Busch Midwest Insulation Services, Inc. Craig Bynum CORNERSTONE SERVICES GROUP Brian Clark Distribution International Jeff Cook Cook Brothers Insulation Kevin Dauenbaugh ENERVATION, INC. Luke  Davidson MacArthur Company Andrew Davis Cornerstone Services Group Adam DeGraaf Industrial Construction & Engineering Jeff Dineen Aeroflex USA Dave Dronen 3M Rob English Owens Corning - Foamglas Steve Enochs Distribution International Bill Felstead Jeff-Co Sales & Marketing, Inc. - IN Colby Ferguson MacArthur Company Gavin Forehand Owens Corning Steve Gardner Specialty Products and Insulation Jessica Green F & H Insulation Sales & Services, Inc. Bob  Greske MacArthur Company Steve Grushetsky Midwest Fasteners, Inc. Joe Guest 4-State Supply Chris Hayden CORNERSTONE SERVICES GROUP Matthew Hedgers Bay Insulation Supply Co. Brian Hensley Cook Brothers Insulation Andrew Hiatt Polyguard® Products, Inc. Matt Holker Tenet Mark Horvat Distribution International Justin Hubbard Armacell, LLC Tim Hughey Colorado Mechanical Insulation Rich Huseman GAGNON INCORPORATED Jacob Hymer Midwest Materials Company Matt Hymer Midwest Materials Company Dave  Jarecki Cornerstone Services Group Joe Jarecki Cornerstone Services Group Justin Johnson Johnson Thermal Solutions Josh Klemmensen Bay Insulation of Minnesota Matt Krueger CORNERSTONE SERVICES GROUP Brandon Larson Armacell, LLC Kevin Le Certainteed Randy Leopold Mid-Iowa Environmental Zach Leopold Mid-Iowa Environmental J.D. Lile Vimasco Corporation Matt  Lillig  Cornerstone Services Group Scott Marker Ceramic Fiber Enterprises Tyler McNeil MacArthur Company George Menke GAGNON INCORPORATED Chad Meyer Johns Manville - IN Bill Miller Miller Group, Inc Bernie Moore AMD Distribution Pat Nelson Jeff-Co Sales & Marketing, Inc. - IN Ted  Nickel  Mavo Systems, Inc. Cliff Niesl MacArthur Company Rudy Nigl L & C INSULATION, INC. Charlotte NIsleit KW Specialty Services LLC Darrell Peil Knauf Insulation Carl Petersen DELTA THERMAL SERVICES Michael Peterson Johns Manville Jeff  Poad MacArthur Company Kevin Rambo F & H Insulation Sales & Services, Inc. Chad Rebholz Jeff-Co Sales & Marketing, Inc. - IN Larry Rice Ideal Products of America Holdings, LLC. Phil Rosendahl hth companies, inc. Kevin Sack Sprinkmann Insulation, Inc. Stephen Sack Sprinkmann Insulation, Inc. Gary Schelberger Ten Point Marketing Jeff Schelberger Ten Point Marketing Kris Scheller Extol of Ohio, Inc. Adam Sease GAGNON INCORPORATED George Shimada GAGNON INCORPORATED Craig Shirley RPR Products, Inc. David Shong Thermal Pipe  Shields Phillip Smith PIC Plastics Ashleigh Snook F & H Insulation Sales & Services, Inc. Joel Springer Bradco Supply, Inc. Casey Stearns Tri Star Insulation Lee Stuckenschmidt Systems Undercover, Inc. Mark Sylvester Aeroflex USA, Inc. Louis Tehan Owens Corning Technical Insulation Robert Thompson 4-State Supply adam Tollefson API Construction Jake Tresslar Johns Manville Johnny Turpin Specialty Products and Insulation Corey Vance RHH Foam Systems, Inc. Gordon Vierck Luse Thermal Technologies Tim Walter Alkegen Louis Walton Proto Corporation Mark Wojtiuk RHH Foam Systems, Inc. Ian Wyatt Brauer Supply Co. Jason Zwieg Tenet    
Omaha Marriott Downtown at the Capitol District - Omaha, NE
---